If not for weddings, Indians would miss a reason for a short vacation. And, also the chance of announcing their love to the world.
What is the first thing that pops in your mind when you hear the holy word, "Wedding?" The first thought to cross my mind is a huge well-lit banquet, lighted with grandiose and decorated with the joy of the bride and the groom. Any wedding is incomplete without the combination of tradition and grandeur. Coming to think of it, this description fits rightly for a luxury banquet in Delhi – The Heritage Grand.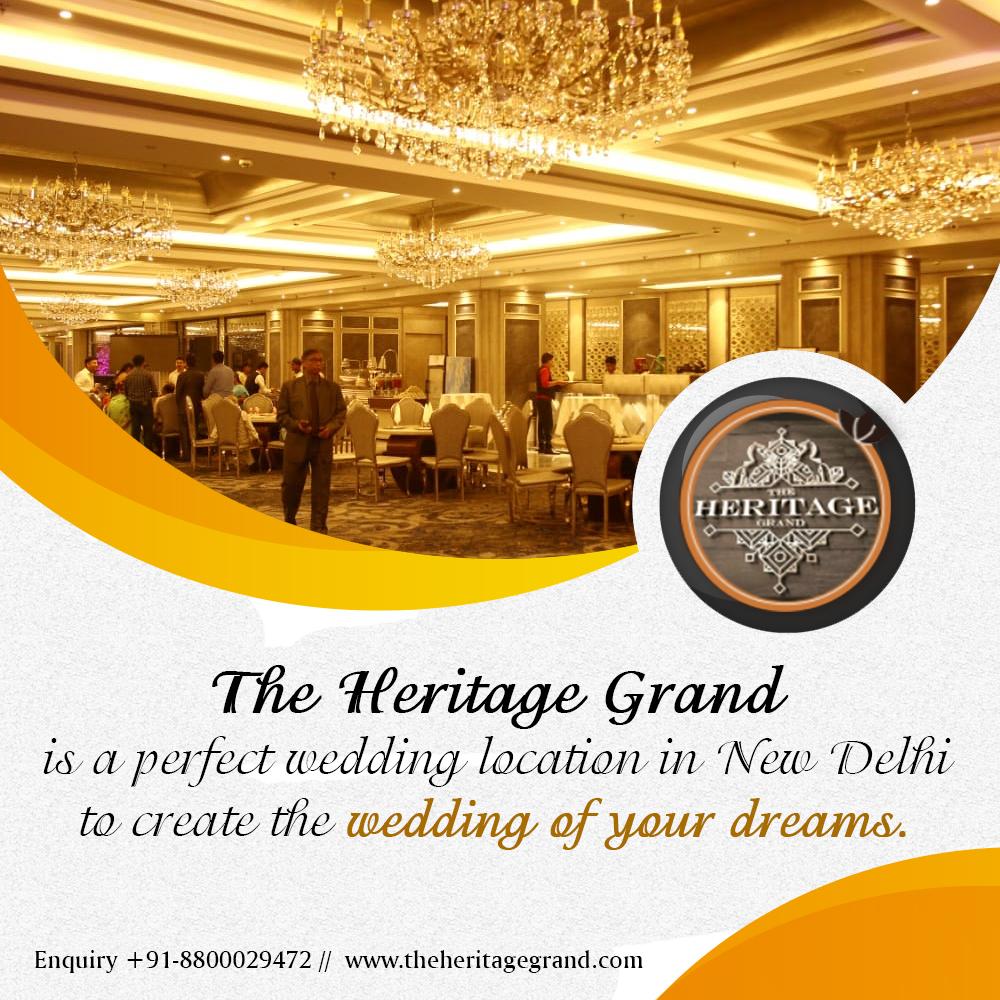 The name simply speaks of tradition and grandeur that it's known to offer. One tour of this cultural exhibition will assure you of making the right choice. Every step from the entrance of the banquet till its dead end, speaks opulence. Whether you're looking for party halls in West Delhi or a marriage banquet hall in Delhi, The Heritage Grand is the conclusion to your search endeavour.
The hanging chandeliers from the rangy ceilings, cavernous banquet area, multiple light options, upscale tiling on the ground, and the exquisite false ceiling contribute to finesse of this place. When you look down starting from the grand entrance of the banquet, your mind will start thinking about the redecorating pins you browsed over Pinterest. Whether you choose to decorate the entrance area with dim lights, or you take the route to extravagance, by deciding on heavy lights, The Grand Heritage is suffused with equipment to fit your needs.
Moving on to the dining area, the banquet has constructed a specific area for buffets. Adorned by the beauty of artificial plants, the buffet section presents a conveniently large area to accommodate more than 500 guests. Talking about the catering services, you can either hire an external caterer or we can arrange for our in-house catering services. With the help of the best chefs in the city, your event will become memorable with our catering service.
Apart from being a famous marriage banquet hall in Delhi, The Heritage Grand is a multipurpose banquet. It is versatile enough to organize events like Sangeet, Mehndi, Cocktail, Bachelorette, Conference meeting, and Seminars. The in-house DJ services are available for the guests at a discounted price. Contact us now, using the information provided at the bottom of this webpage. Our team will provide free consultation for your event planning.